For us people living in Reunion Island, it is hard to live a day without Samossas!
Samossas should be eaten without moderation!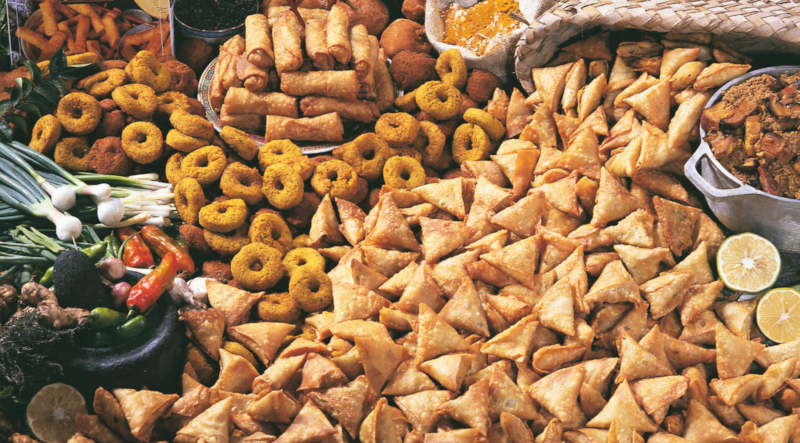 A Samossa was originally a small pyramid, about 8 cm in length, made of dough wrapped around different ingredients, and typically savory. Its content included vegetables, potatoes, herbs and spices, fish, or more rarely meat (mainly chicken). All of it was fried and served as an appetizer.
Since leaving its country of origin, the Samossa has undergone modifications to adapt to the tastes of its new consumers. Thus it can be found as sweet, with almonds or different peanuts in the Maghreb countries, or very large (almost 10 cm in length) in Madagascar, the Comoros Islands, or South Africa. Its evolution seems to have reached perfection in Reunion Island where it became the most popular appetizer delicacy! Its size is smaller (about 4 cm in length) in order to enable gourmets to taste several of them without getting full. This way, Samossas can satisfy the most delicate palates by combining mulitple flavors and can be enjoyed together with other appetizer delicacies such as stuffed chilis, fish and shrimp fritters, or spring rolls (some of the other products made by Samoussas TAÏLOU).
To make a good Samoussa TAÏLOU, all you need is a very thin layer of wheat dough wrapped around stuffing marinated in exotic spices and fresh vegetables, folded in a triangular shape. Samossas will obtain their beautiful golden color upon frying in oil and will have a crunchy texture and a delicious fragrance, which will whet the appetite of the most discerning gastronomes.